Again with the dirty minds…
I feel as if I have 4,822 balls in the air.
I have my normal part time job, I am starting a business with a friend, I am trying to write again, Christmas, Kids, Grocery Shopping, Flat tire, Fractured Rib…
I'm going to stop right there.
Let me explain.  I went to the doctor yesterday for this horrible pain in my side.  After my evaluation, she said I have either a separated muscle in my rib cage, or a fractured rib. When my PA asked how this could happen, I explained that a couple of weeks back, there was an entire week that I woke up coughing. Coughing and hacking as if I was trying to regurgitate Satan himself from my lungs. And one morning I felt a *pop.*  She looked me in the eye and said, "You're going to need to come up with a better story than that.  That is the most boring way I have ever heard to break a rib."
We decided that I am going to stick with either;  I was running into a burning building to save the elderly and some puppies and in my sheer determination to save lives I managed to break a rib.  Or she said, just blame it on a bar fight.  Anything but your boring cough.
She laughed, I laughed, then I screamed bloody murder with pain from the hot molten knife that was twisting in my side.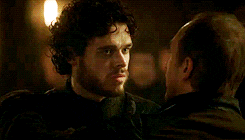 Good times.
Today is better.  But not great.  I still went to work, I still did laundry, I still cleaned up and I will still do all the things.  But I will not be doing anything strenuous in nature for the next two weeks.  So the bungee jumping extravaganza clearly needs to be rescheduled.
Bummer.
I am still hanging in there.
2016, you won't take me alive!
As Always,
Woman on Pause
Gif Credit: https://33.media.tumblr.com/17f4dd5253033ab8e551147f47a3f7f0/tumblr_mucmrbGaiY1shxe70o1_500.gif.